10 Qualities All Successful People Share (that have nothing to do with talent)
– reviewed by Jonathon Much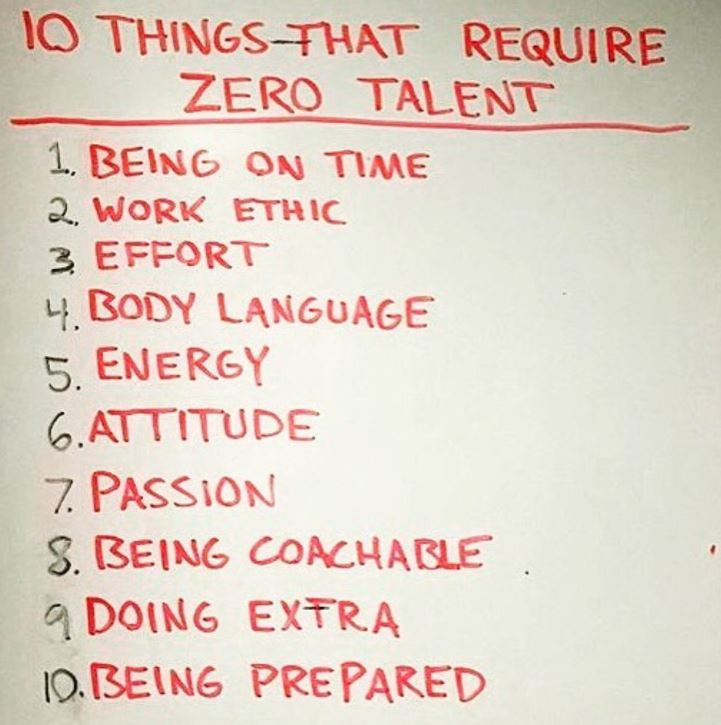 Not too long ago, the serial innovator and entrepreneur Fouad ElNaggar [the co-founder and CEO of Sapho] posted an image recognizing, "10 Qualities All Successful People Share (That Have Nothing to Do With Talent)". While you may or may not have seen his post already, I believe it is significant enough to repost because many employers' stress that technical ability as well as perseverance remains as the fundamental characteristics that makes a good employee; while this ethos certainly rings true, I agree with ElNaggar that those are only two of the components of an effective team member (and perhaps potential future leader).
That being said, I wanted to dig a little deeper and give my 2 cents in reviewing his list of "10 Qualities All Successful People Share (That Have Nothing to Do With Talent)":
Being on time – To paraphrase the late, great Vince Lombardi, "If you're early, you're on time. If you're on time, you're late. If you're late, don't bother showing,". While this view on punctuality may seem harsh, the message is straightforward; everyone leads a busy life, and being on time is a simple way to show your fellow coworkers you respect their time and effort.
Work ethic – Comprised of hard work and diligence, having a strong work ethic is often viewed as the bedrock of professionalism and a foundation of strengthening ones character. Showing up to your job ready to "roll up your sleeves" is a good way to show coworkers that you're dependable, and not afraid to work hard to achieve success (no matter how you define "success").
Effort – Effort goes hand-in-hand with work ethic, and going the "extra mile" is a characteristic that is respected in all areas of life. After all, it's difficult to be upset with someone who is giving 110%.
Body language – Perhaps you're familiar with the "7% rule" (93% of successful communications are nonverbal while only 7% are verbal)? Although science has proved that this statistical adage is probably not quite as accurate as conventional wisdom has taught us, the message remains the same: body language is essential to successful communications. Presenting yourself in a confident and positive manner is sure to be beneficial when conveying ideas.
Energy – Work isn't always easy, and life can be tough; however maintaining an enthusiastic attitude is a critical component of being successful. Maintaining positive energy is a good strategy for getting through the difficult times in your life, and perhaps more importantly helping those around you who may be struggling. I have yet to be in a situation, personal or professional, where positive energy isn't appreciated.
Attitude – Expressing a positive predisposition in the work place is a healthy approach to making the most out of your day. We are all constantly faced with challenges, but maintaining positivity under duress is a great method for managing stress, while constructively impacting those around you.
Passion – Being passionate or having a sense of excitement about the task at hand is an essential component of finding success in the workplace. Not everyone is fortunate enough to do exactly what they love for a living, but most of us can find some aspects of work that we enjoy – or are even passionate about. Exuding this emotion is a good way to create positivity in the workplace and will likely be appreciated by all of your teammates.
Being coachable – How does someone maintain the position of being an "expert"? While there are many ways to answer this, one method that is often overlooked is "being coachable". Allowing oneself to learn, or rather continue learning new skills is a good way to show everyone that you are on a constant quest for knowledge – and this knowledge can be found anywhere. Rare is the situation that a willingness to learn is frowned upon.
Doing extra – Doing what is expected at work is just that – expected, average, normal – however you want to phrase it, it is simply not enough anymore. "Going the extra mile" is a tried and true method of distinguishing yourself from the masses without isolating yourself. If you think about it for a moment, when was the last time you were upset with someone for doing more than the minimum?
Being prepared – "Be prepared" has been the motto of Scouts throughout the world since the turn of the 20th century, and with good reason; "being ready" breeds confidence and allows one to rise to the occasion and make seemingly insurmountable tasks that much more possible. As world renowned French chemist Louis Pasteur once said, "fortune favors the prepared mind,".
While my interpretations of ElNaggar's list are obviously subjective, I'd be curious to hear what some of you believe. Are these character traits as critical as technical ability? Do you think some are more important than others?
Source: https://twitter.com/ThufirHawat/status/726433915653623809